Other customers satisfied
GREAT WAY TO START THE DAY
I arrived early and was greeted by Rhiannon Charbonneau who provided excellent knowledgeable service.It is now 8.51am,the vehicle is ready, Christine happily took my payment and I am on my way to my 9.30 meeting .Great experience,great pricing,thank you James for your quality commitment.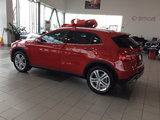 Thank you Frankie for your assistance in reviewing the comparable merits of the vehicles I was interested in. I was sold when you demonstrated the solid construction of the Mercedes brand by jumping on the open door of a floor model. You made sure that I benefited from the best deal possible. Thank you for your professionalism
It was a pleasure to do business with the personal at Ogilvie Mercedes-Benz. Over and above all the staff I have dealt with which were all exceptional, I would like to particularly thank Leslie Mise because of the personal attention he gave to me, he was sympathetic, thorough in his explanations and his patience exceeded anything that one could have expected. Again I must repeat that I was completely satisfied and impressed by the staff at Ogilvie Mercedes-Benz, again thank you.
Thanks to David and Ogilvie Mercedes for the continued wonderful service. Top notch quality in every regard! Rita and Mark
See all testimonials